Maui surf lessons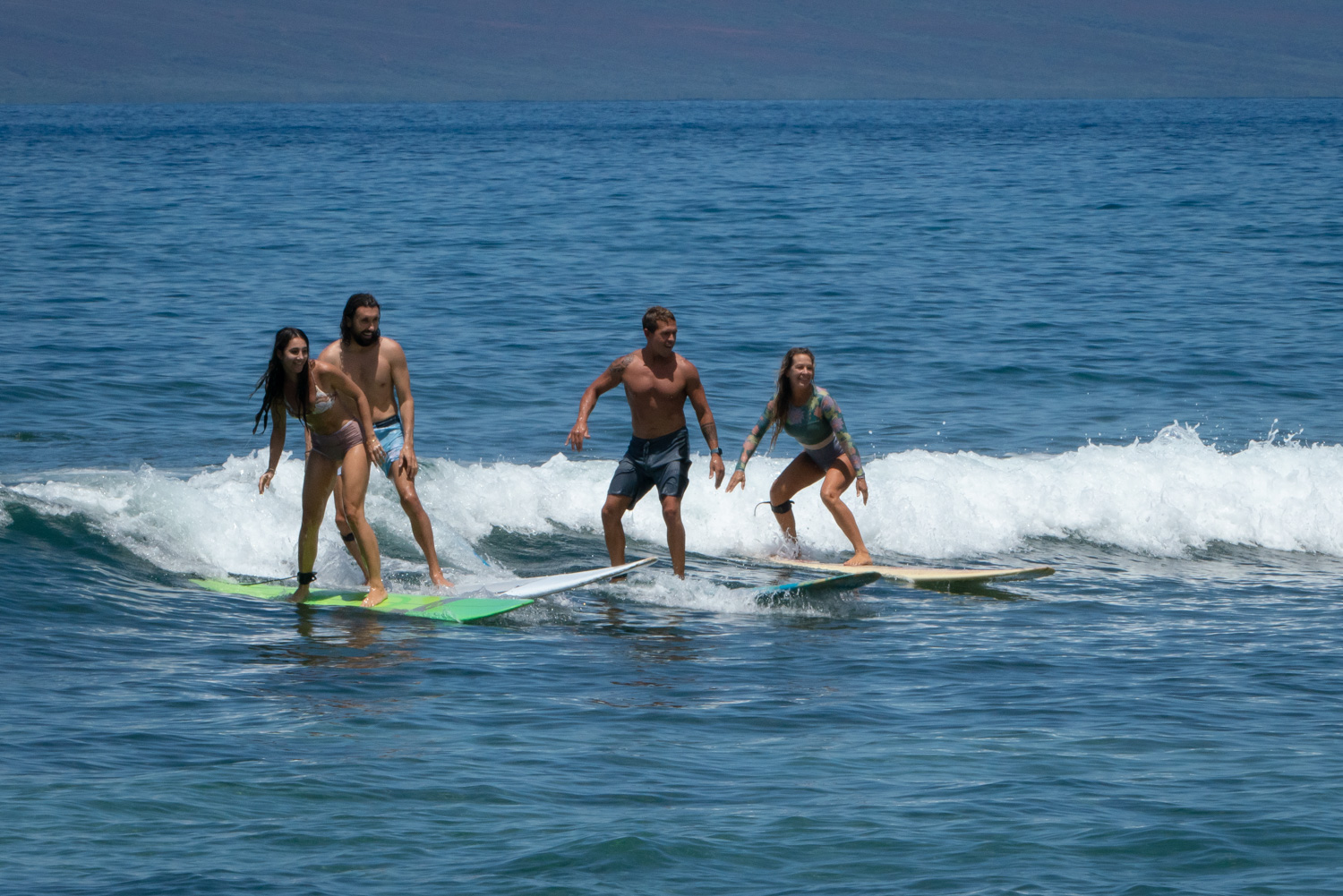 Private Surf Lessons Maui
Our lessons are taught on one of Maui's most exclusive and beautiful surf beaches. Our off season sessions are 2hrs and Summer Sessions are 1.5hr due to the higher frequency of waves in Summer. Also it includes a surfboard, rash guard, and booties.  We also offer FREE digital Photography and reef-safe sunscreen to ensure you and the coral reef are protected. During our lessons, we teach the fundamentals of surfing. Each session begins with a land lesson to get you warmed up and comfortable. Then with a surfboard we practice the skills we need to get out in the ocean safely.
In your surf lesson Maui you will learn:
The parts of the surfboard and equipment selection (fins, wax, board etc).
Positioning on the surfboard and in the ocean (alignment and balance).
Paddling technique, timing, and wave selection (strengthening and conditioning).
Pop-ups, exploring your stance and how muscle memory works.
Ocean Etiquette, rules, and safety of surfing with others around you.
Stretching and warmups, which are essential parts of keeping the body flexible and relaxed.
Private surf lessons offer the full attention of the surf instructor therefore offer extra support that is focused on specific skills that will help your surfing improve drastically.
Private group surf lessons are a fun way to spend time with family and friends while learning a new skill and enjoying Maui's beautiful coastline.
Our Private Surf lessons cater to:
Beginner surf lessons are for surfers who wish to learn the fundamentals of surfing while having fun and staying safe.
Intermediate lessons are for surfers who are ready to gain new skills and practice turning on the surf board, manoeuvring down the line up and surf etiquette.
Advanced surf sessions are for surfers that are ready to navigate larger surf, pushing themselves physically using surf techniques to improve overall performance.
Expert surf training is for surfers to gain experience riding World-class waves and working with a experienced surfer and trainer.
Private surf lessons pricing
$199.00 –   Private 1 on 1
$139.00 per person –   Semi Private for 2
$100 per person –  Private Group 3 or more
Book now
FREE Digital Photography
Each lesson also comes with FREE digital photography. We'll not only have you up and riding waves but will also capture your best surfing memories.
Surf Photography
We can catch all your fun waves with our surf photographer. If you give us 48 hrs notice we can organize our photographer to be there for the session therefore must pay upfront  online to secure. (48hr notice)
$50 per person
*Prices subject to change.
Cancellation and Refund Policy
We have 48 hr cancellation Policy, please give us at least 48hrs to reschedule.
We reserve the right to move the appointment time and location due to weather and Surf conditions.
No Refunds but we do gift Certificates.
Gift certificates make take from 7-10 Business days to arrive.
Age and Swimming Regulations
Here at Maui Surf and Soul we value the safety of our new students and friends. Due to dynamic conditions that occur while surfing we have important safety policies.  Being a strong swimmer is not a must but being able to tread water and feel confident in the ocean is important. Our policies state that any student AGES 10 AND UNDER or one that is not a confident swimmer must book a private lesson. A private lesson does not 'separate' your child from the rest of the family, but their own instructor will stay with them on the water the entire time. By booking a private lesson, our Maui surf and Soul staff can ensure the safety of our students and therefore students are able to get the most out of their surf lesson.